What are people saying about
SPORTY BEDS?
Here's a picture of our 12 year old son's room with the Sporty Bed. We're very pleased with the bed. It completes the room and its design, colors, and quality is awesome. During my search for a baseball bed I found several from other companies that were childish and cheap. As soon as I found this bed, I knew it was the one!
Matt from Texas
My grandson loves his baseball bed and nightstand, he was so excited while we were assembling it. As soon as it was set up, he said he was going to bed. Thank you. We are very satisfied with our purchase. Flores from Texas
Thanks again! We love how the bed turned out! Leah from Iowa
Our son loves his bed!! Thank you!!
Patrice from Alabama
I have to say working with Sporty beds has been a pleasure. My order was shipped sooner than expected. It was wrapped really well so nothing was scratched or damaged. My son loves the baseball bed so much that his bed is made everyday.

I have been recommending you to all my friends.
Kelli from North Carolina

We love our baseball bed! Thanks so much! Candice
*** We are so thankful for our customers ***
The bed is very well made & sturdy. My son absolutely loves it!
Emily from Virginia
I emailed them with my creative vision and they went the extra step to send me the rails that would work best for what I wanted. Amazing communication & so beatifically made!
Jeanell from California
Wonderful, top-notch quality. Amazing customer service. You won't be sorry!
Meredith from Pennsylvania
The bed was packaged very well & the quality is great! My son loves his new bed! Thank you so much!

Holly from North Carolina
Very good quality! My son loved it!
Jacqueline from Florida
I can't begin to say enough great things about the baseball lamp I just received.
Excellent quality! My grandson is getting a little treasure for his bedroom desk!
Thank you! Michell from Texas
Ridiculously cute! My baseball fanatic son thinks this is the best lamp ever! I like the quality and baseball diamond detail for the base.
Beth from Washington
Here's a happy boy!
Wonderful, top-notch quality. Amazing customer service. You won't be sorry!
Meredith from Pennsylvania
Our Detroit Tigers Fan ...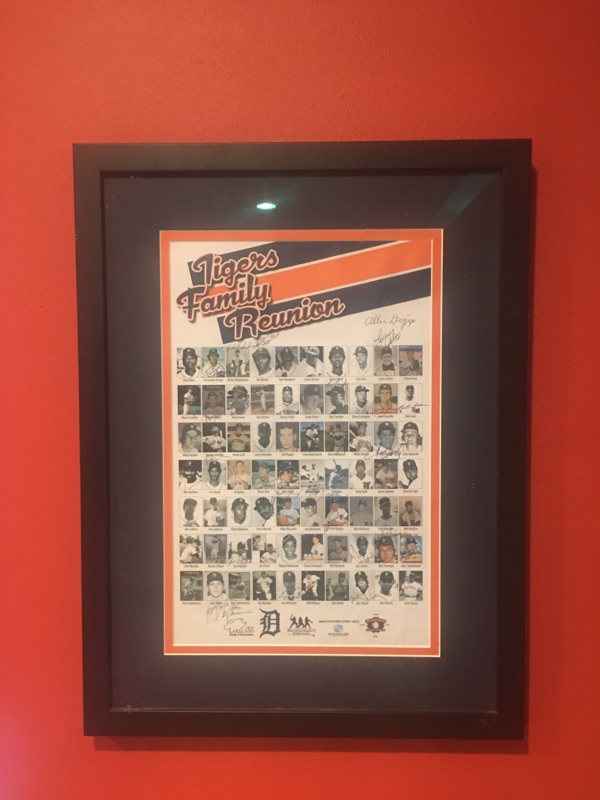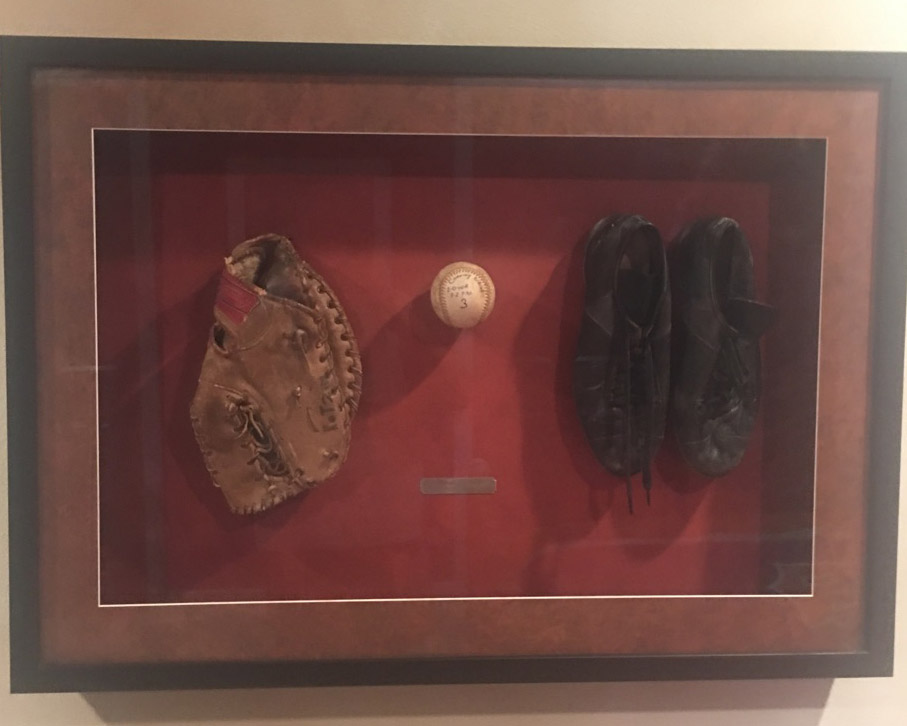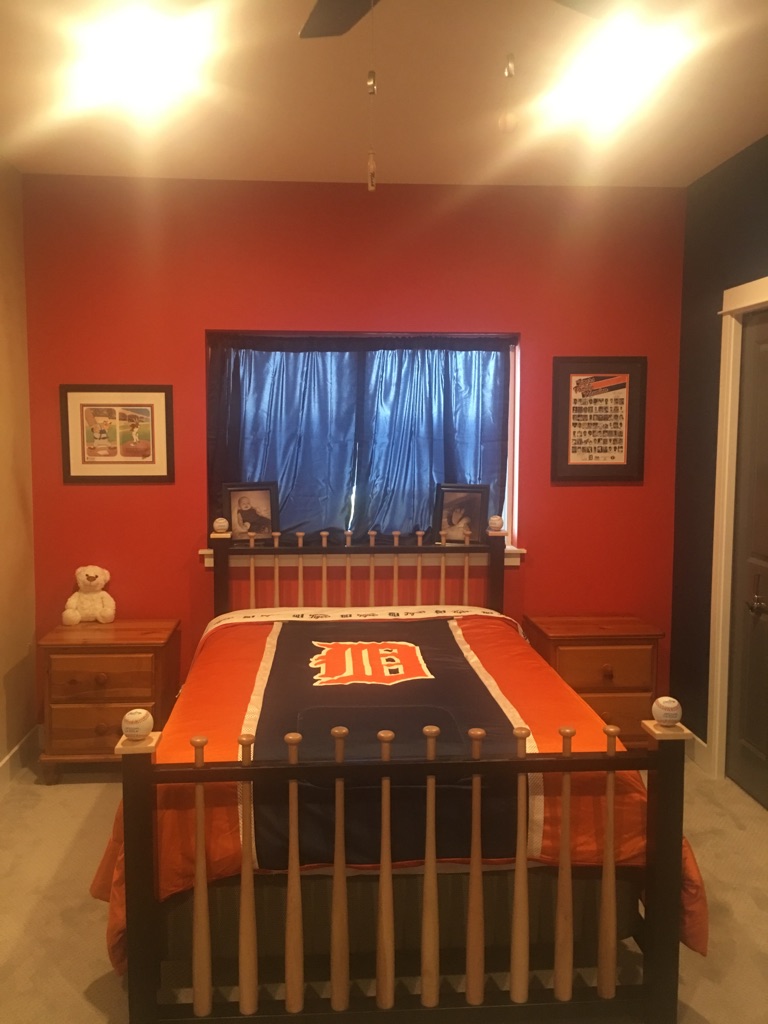 Our son LOVES his bed!! It was easy to assemble and worked well with the bed frame. It looks great. He will love this for many many years. Susan - North Carolina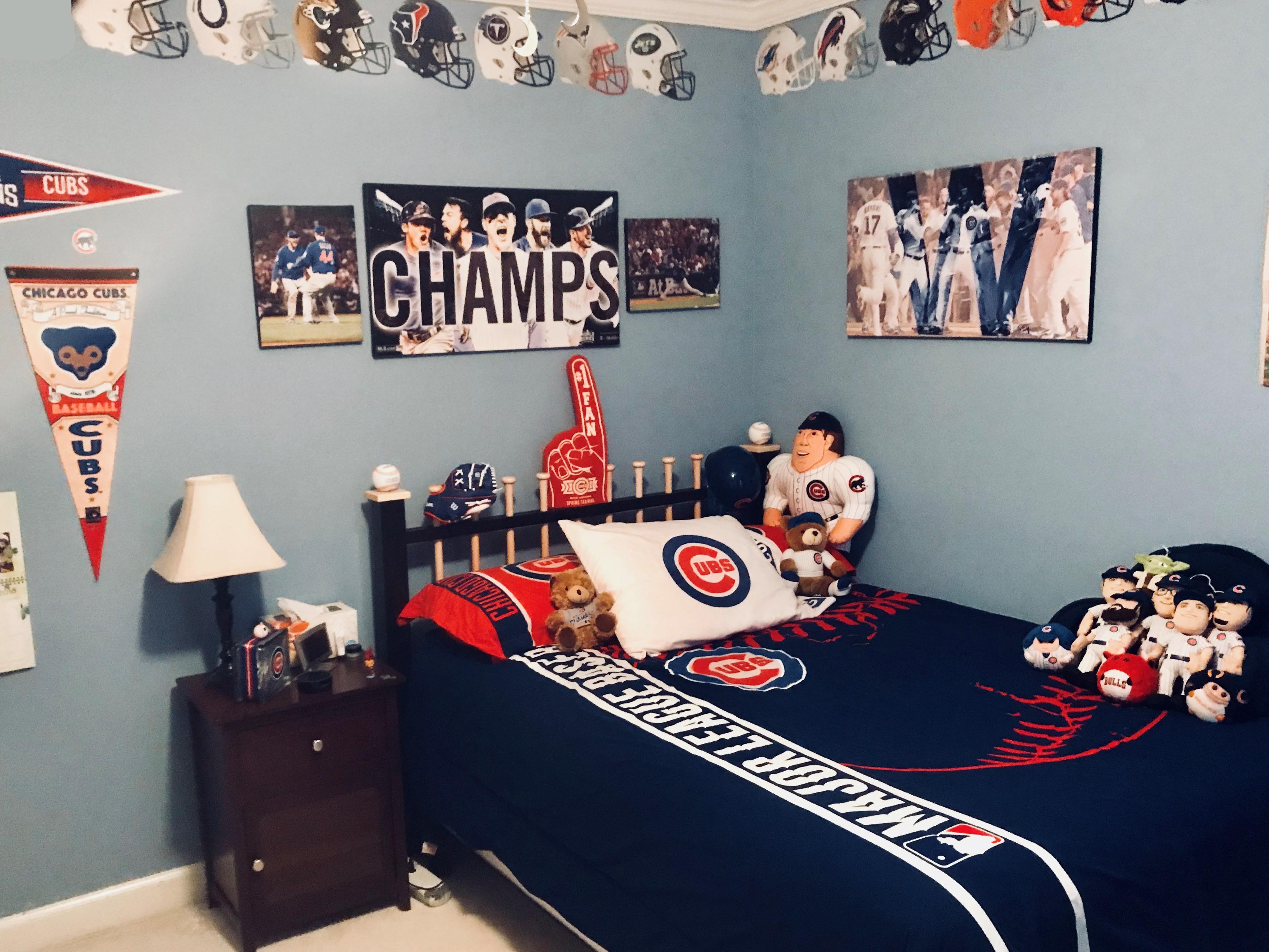 My 2 year old son loves it. Took about 45 mins to put together.
He might give me and his mother our bed back, lol - Yusif from Wisconsin
QUEEN SIZE HEADBOARD, FOOTBOARD, NIGHTSTAND - 3 PIECE SET
This was a Christmas gift for my baseball loving 9 year old grandson. He absolutely LOVED it! Excellent quality and craftsmanship. I would highly recommend this baseball lamp base!! Julie from Iowa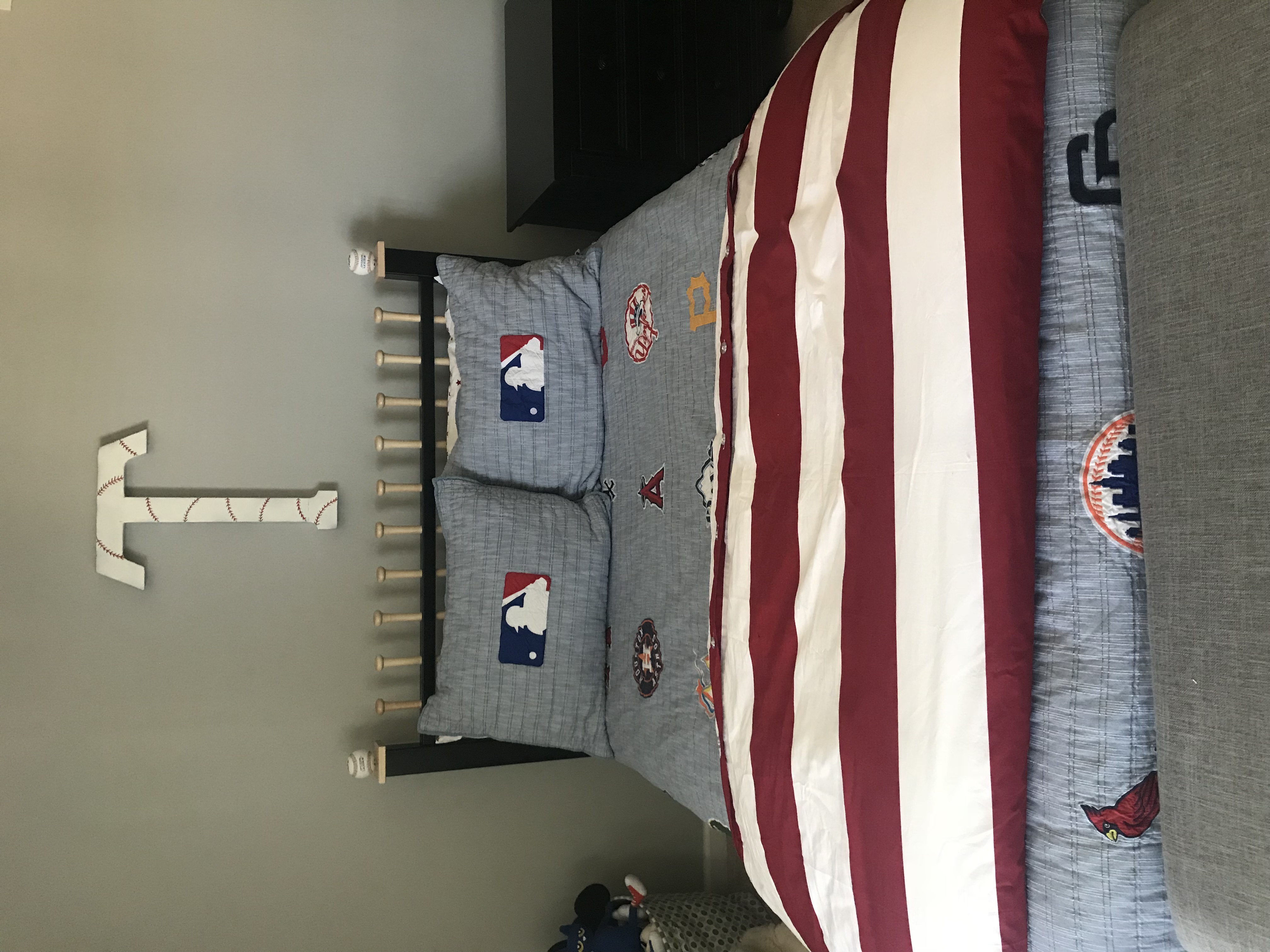 Thanks again for everything! Love it!
Amanda from Missouri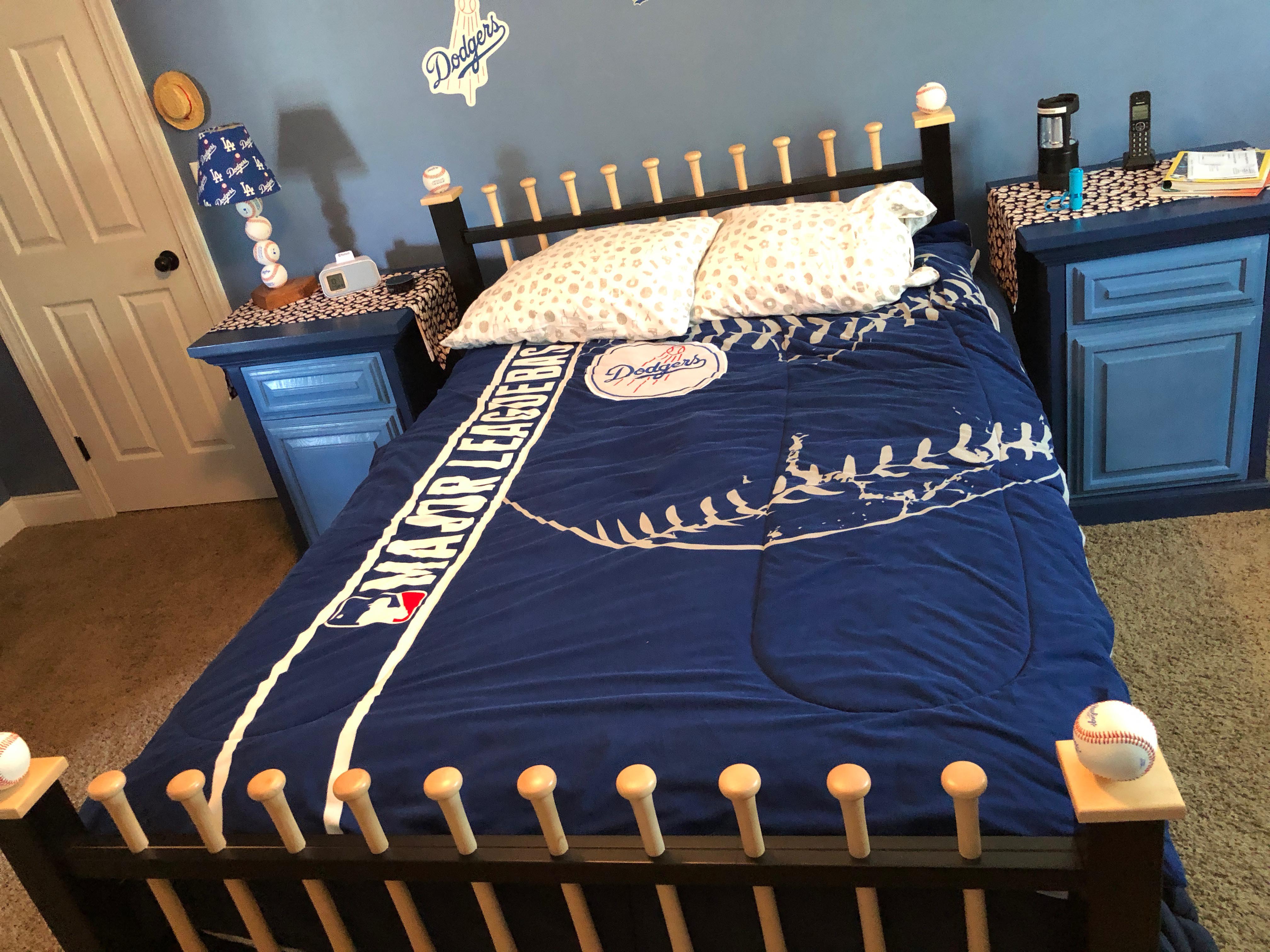 Our LA Dodgers Fan!!
Thank you so much for Gabriel's bed, he loves it! Stephanie, S.C.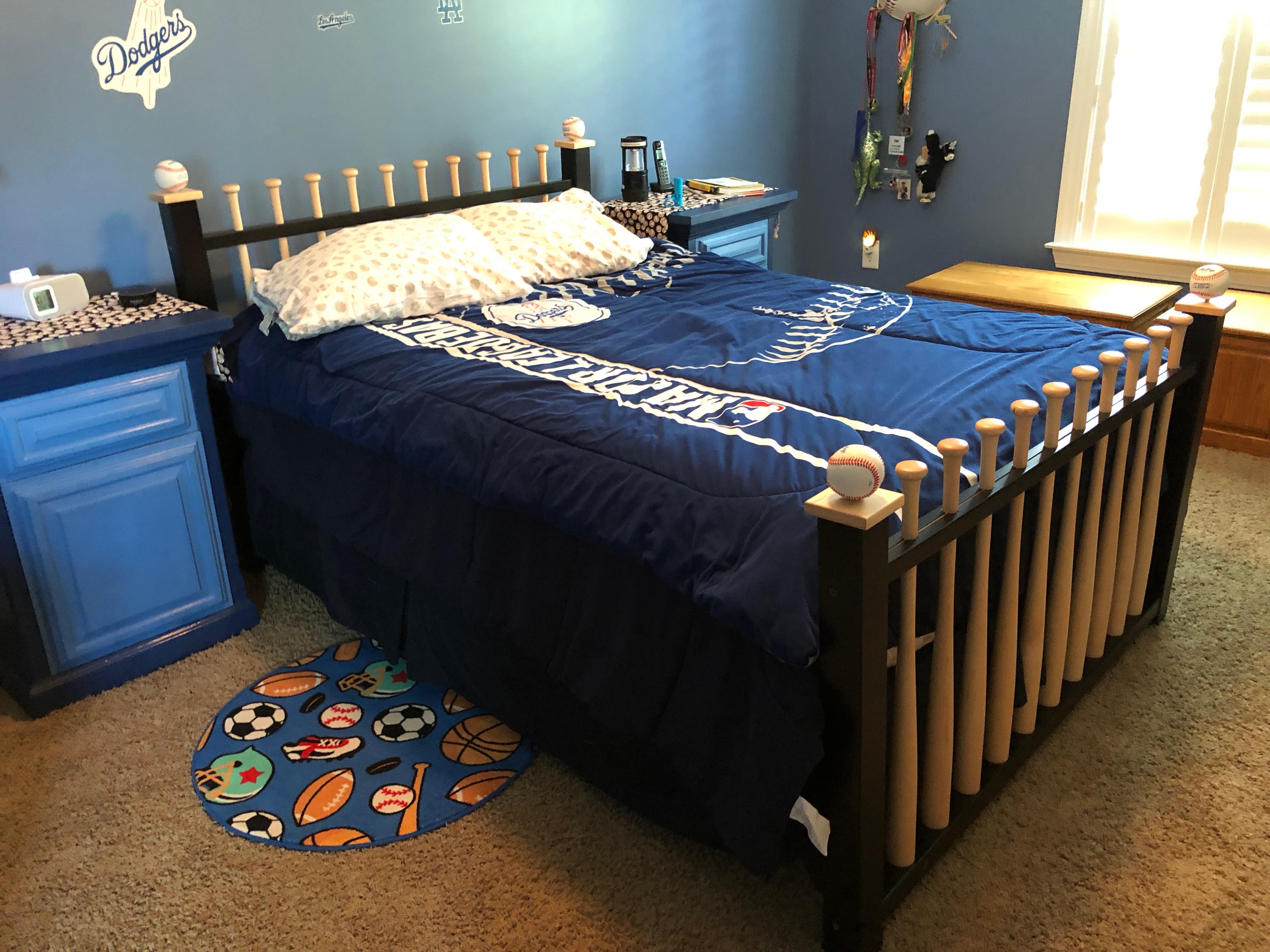 "Shipped fine. Was fun to put together with my 6 yr old son". Chris from South Carolina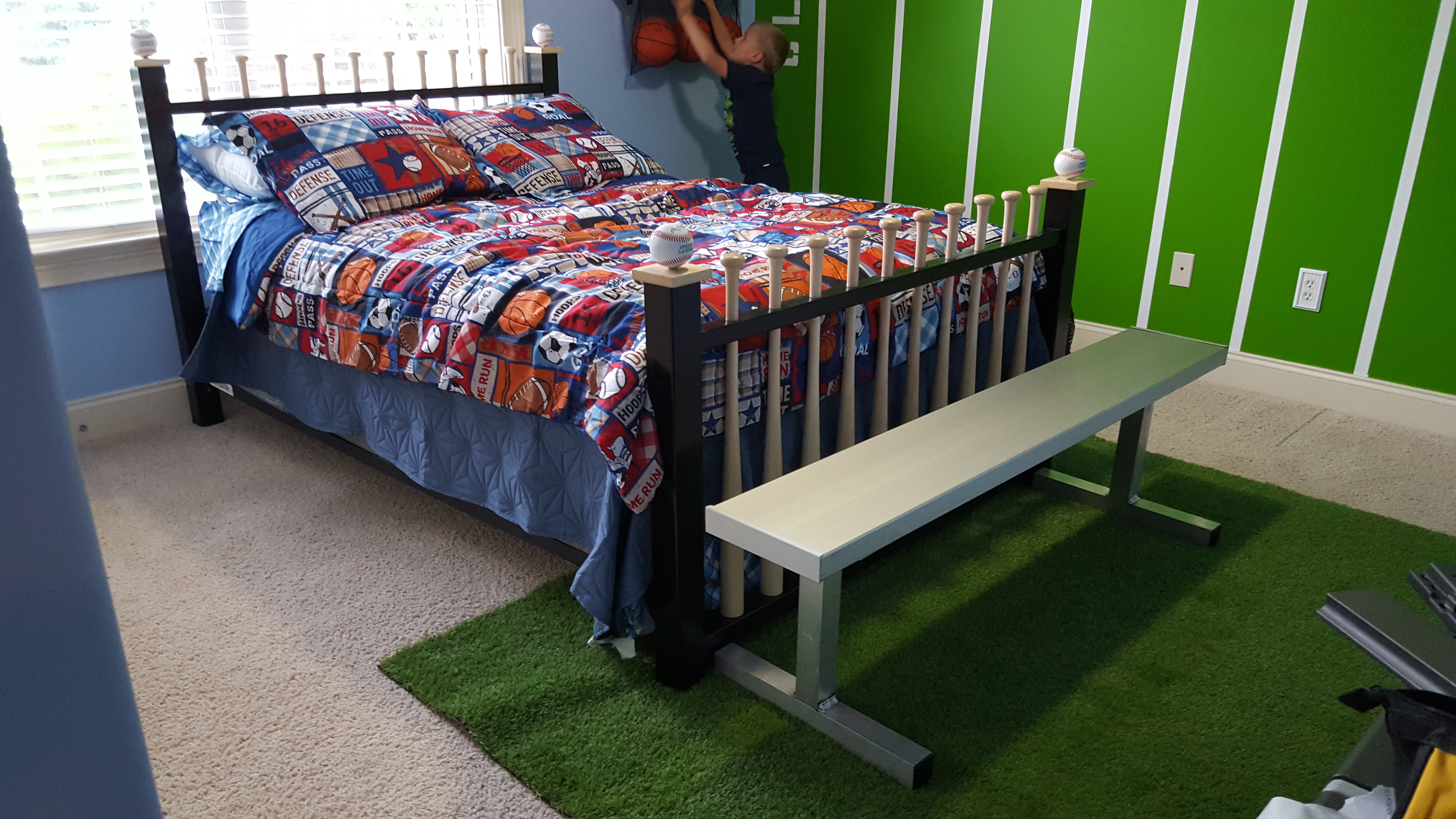 They absolutely love their beds! - Elizabeth - Pennsylvania
Thank you for everything!
Love, Love, Love this bed! It was the perfect height for my son's first big boy bed. Everyone loves it! The lamp is so cute and matches the baseball bed perfectly! I love that it's not a traditional breakable base that my toddler could easily break. Tiffany from Florida
Everyone that sees their beds, loves them.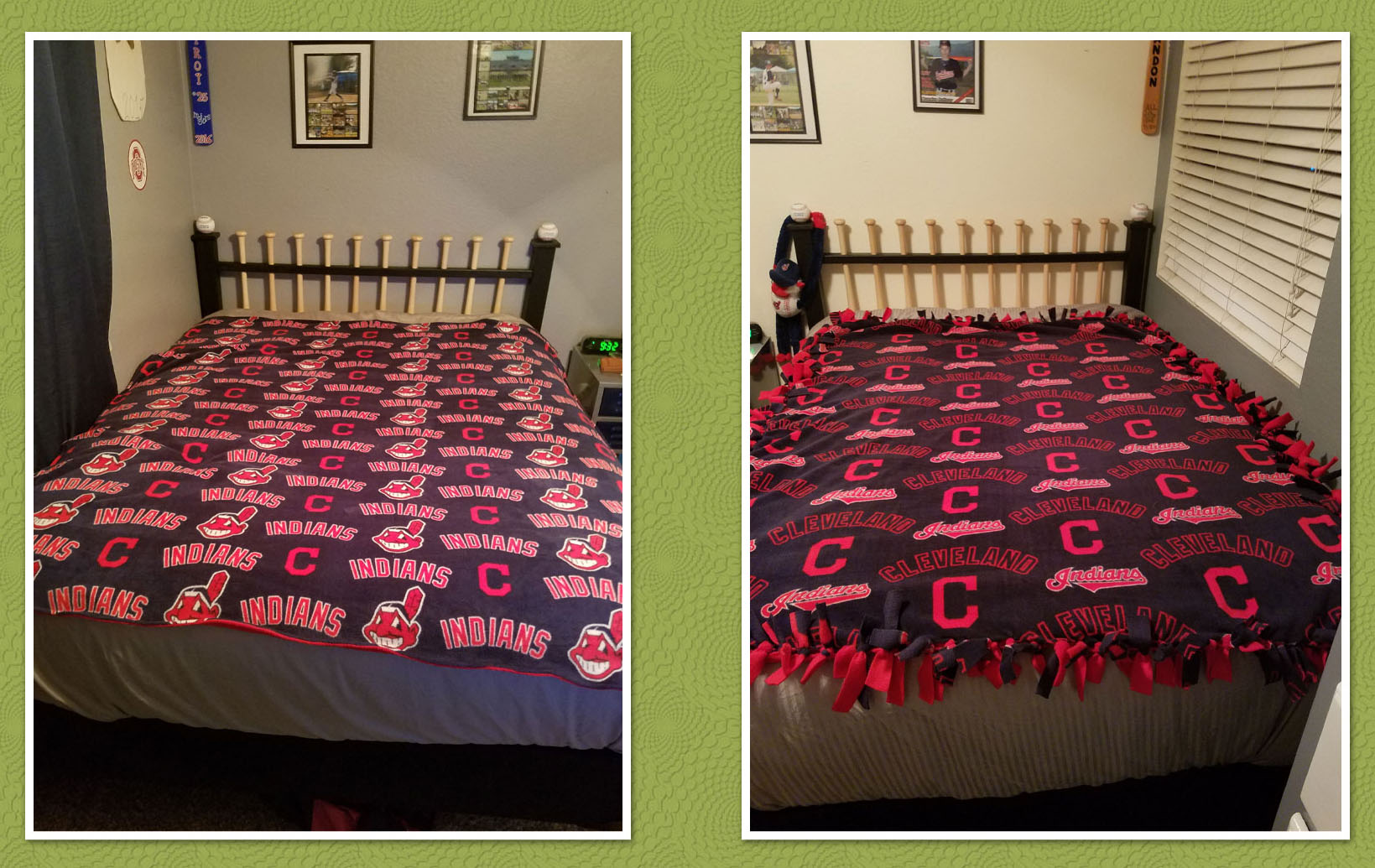 I just wanted to let you know your company is such a wonderful company to work with. I have had a pleasure working with you. It is hard to find companies nowadays that have such wonderful customer service and are so friendly. Anytime I emailed you, you responded so quickly and when we had a problem with one of the pieces from packing, you were very helpful and followed up a couple times to make sure everything was fixed. I have enjoyed working with you, thank you again for such cool beds my boys are still in awe of them and all their friends think they are the coolest beds. Thank you, Abby - California
Our Baltimore Orioles Fan! I love the bed and it was packaged amazing and easy to put together. Adam from Maryland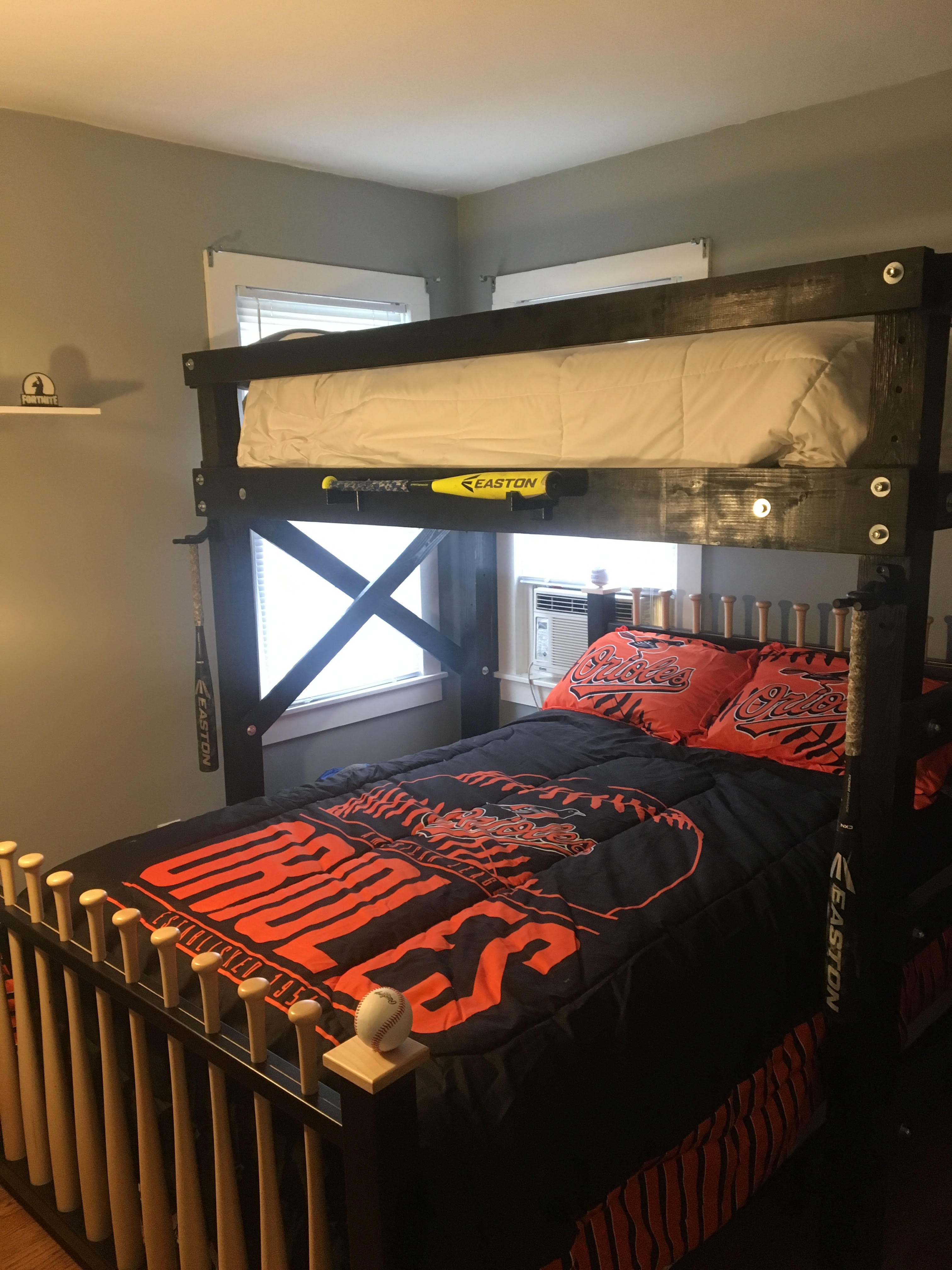 From Our CUBS FAN! ... "Love it"!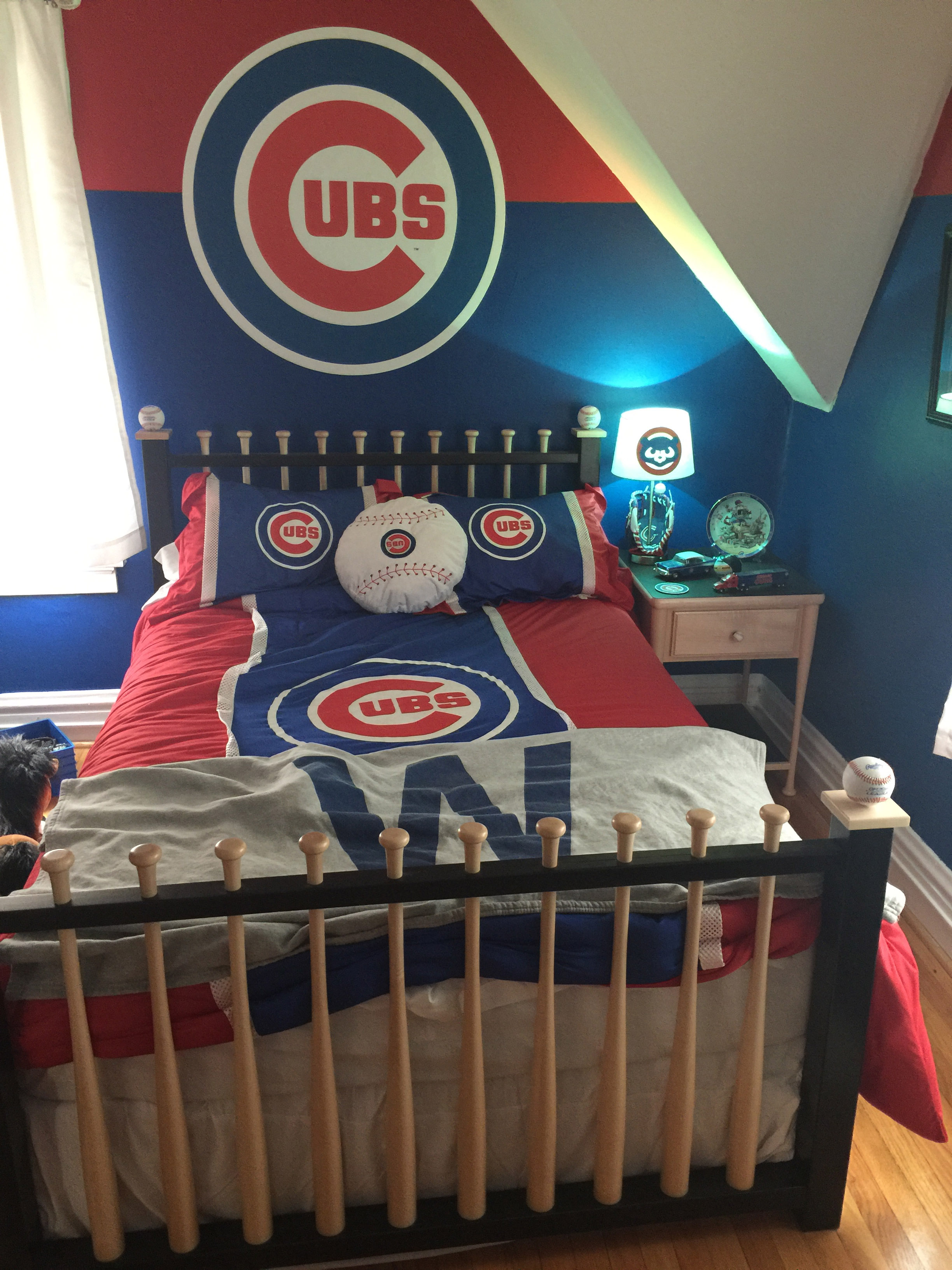 Love our sports bed! Great quality and awesome product! Thank you!! Highly recommend to anyone. Samantha, Texas - Our Texas Rangers Fan!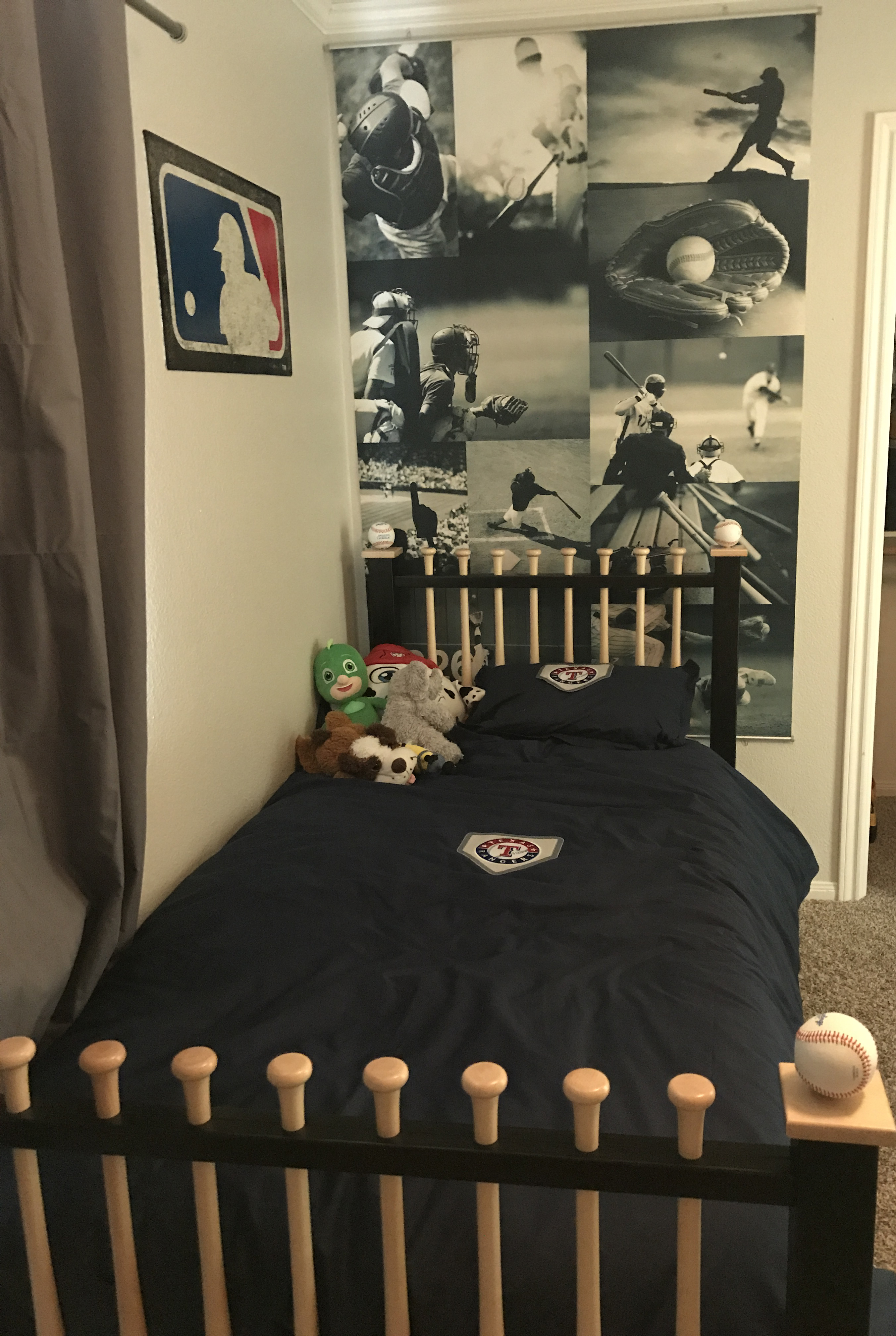 OUR KANSAS CITY ROYALS FAN!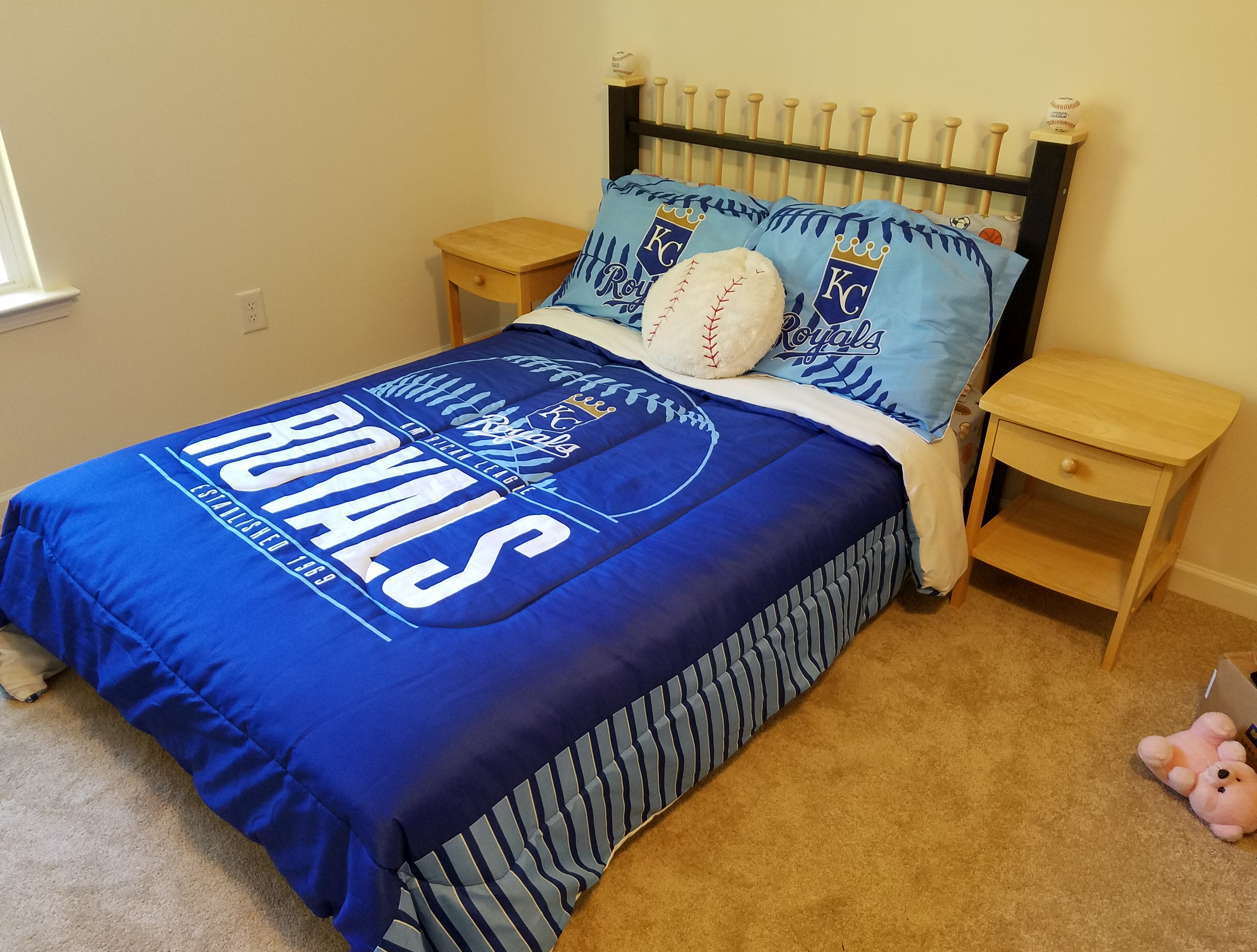 Our TIGERS Fan! We absolutely love my son's bed. He loves to show it off to everyone that comes to visit. Here is a picture of our son in his bedroom. Thanks again! We love it!! Cory & Renee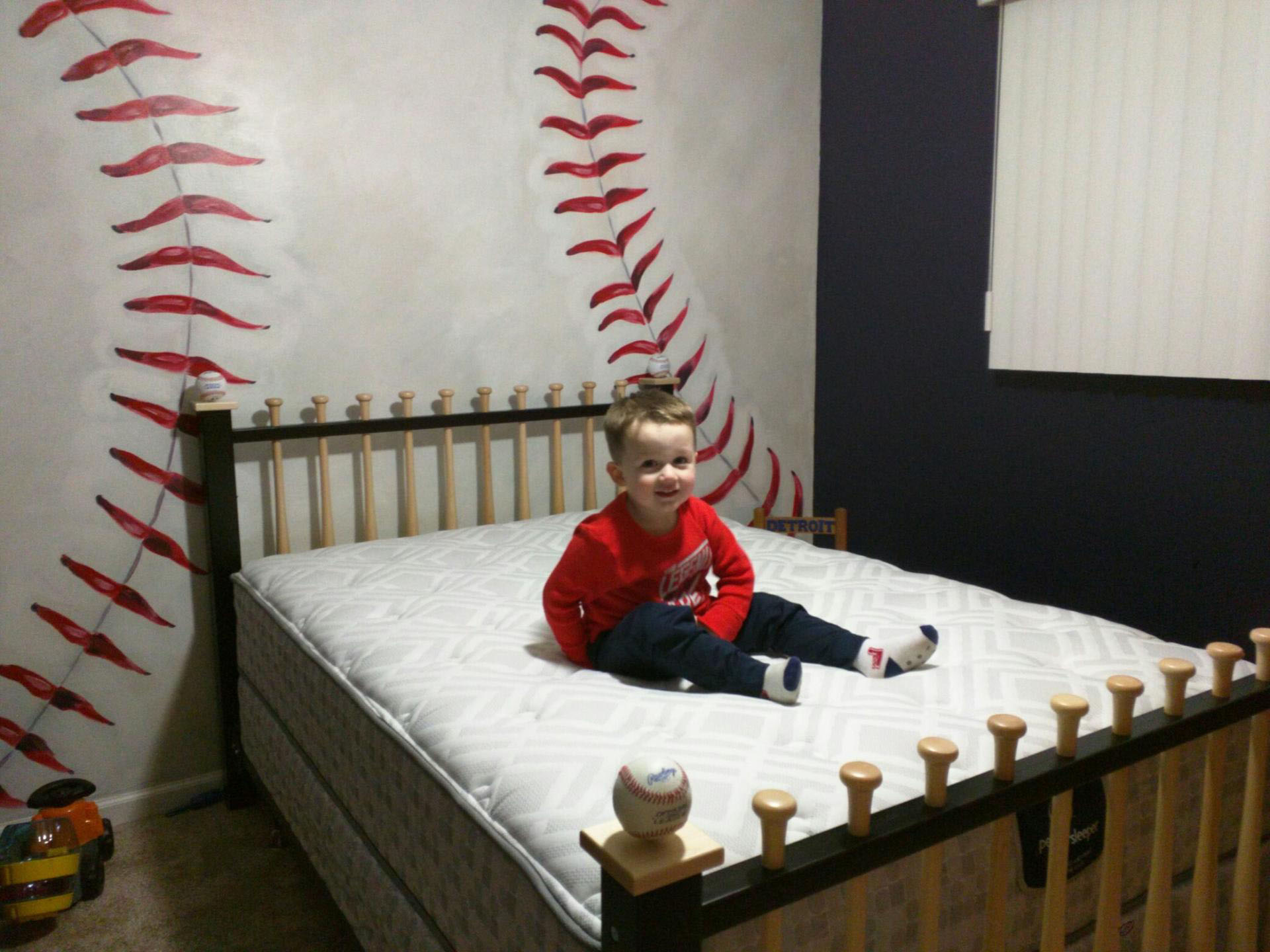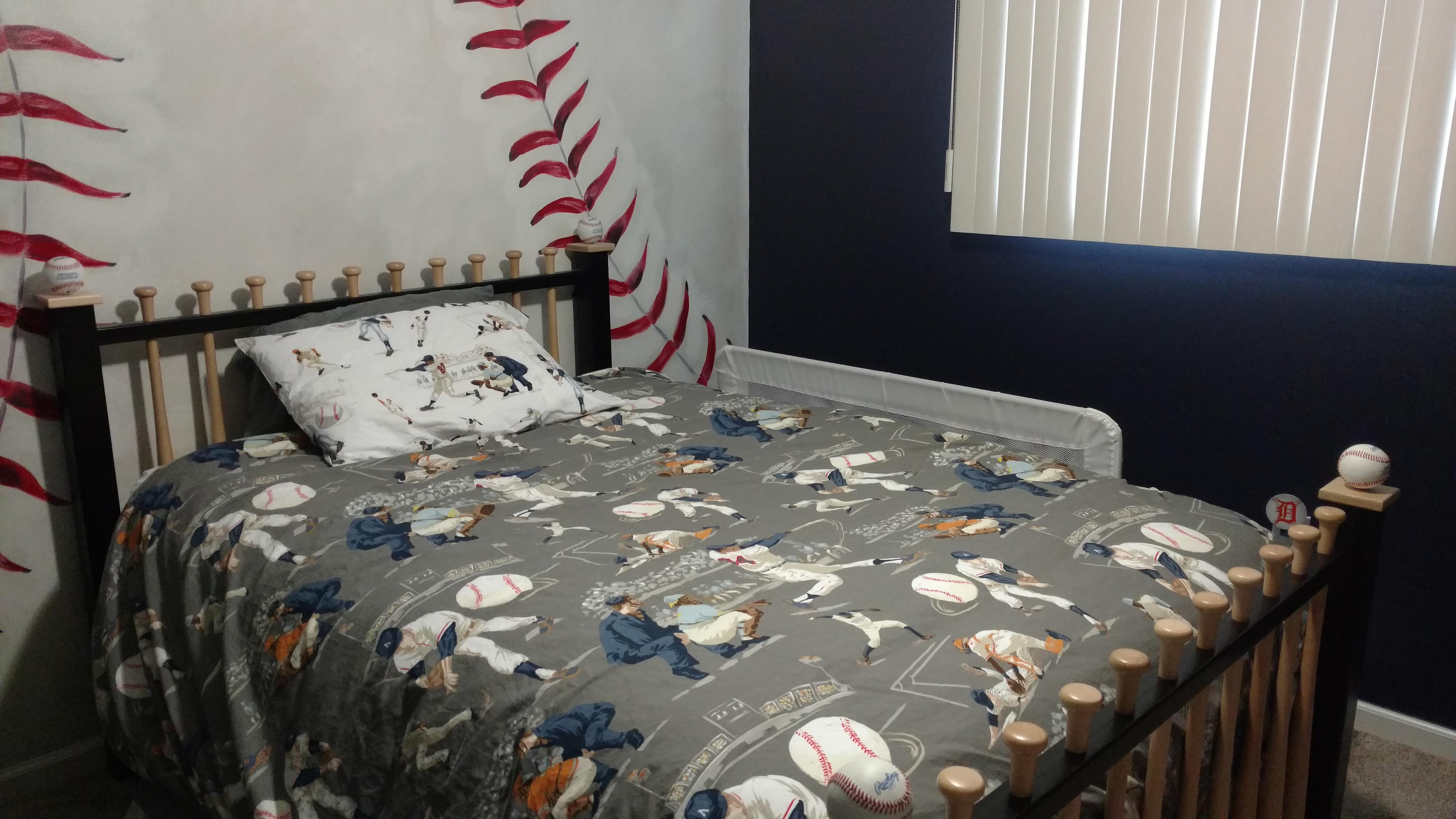 Great bed, my son loves it! The bed is high quality and very steady! My husband was nervous putting it together, but then he said it was easy because it came with thorough directions. Posted by Heather Clark.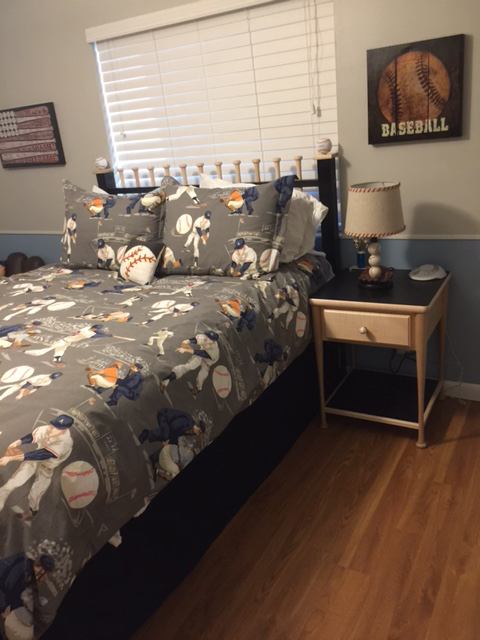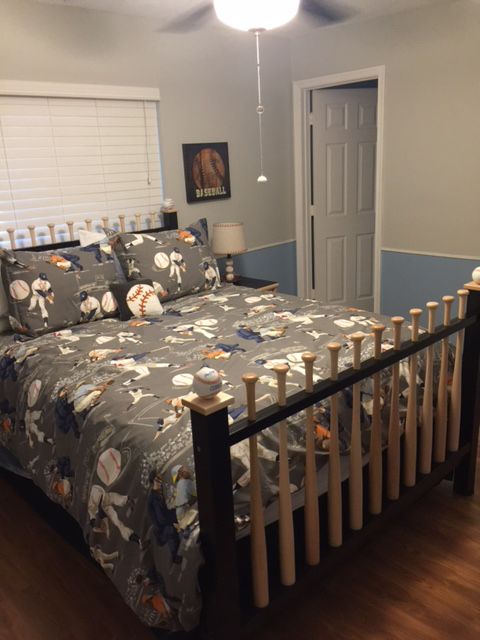 Cardinals Fan - "My son loves his new bed!!! Can't wait to finish the room." - Maggie from Sullivan, Missouri
"He loves it, thank you so much!" - Stacey from Missouri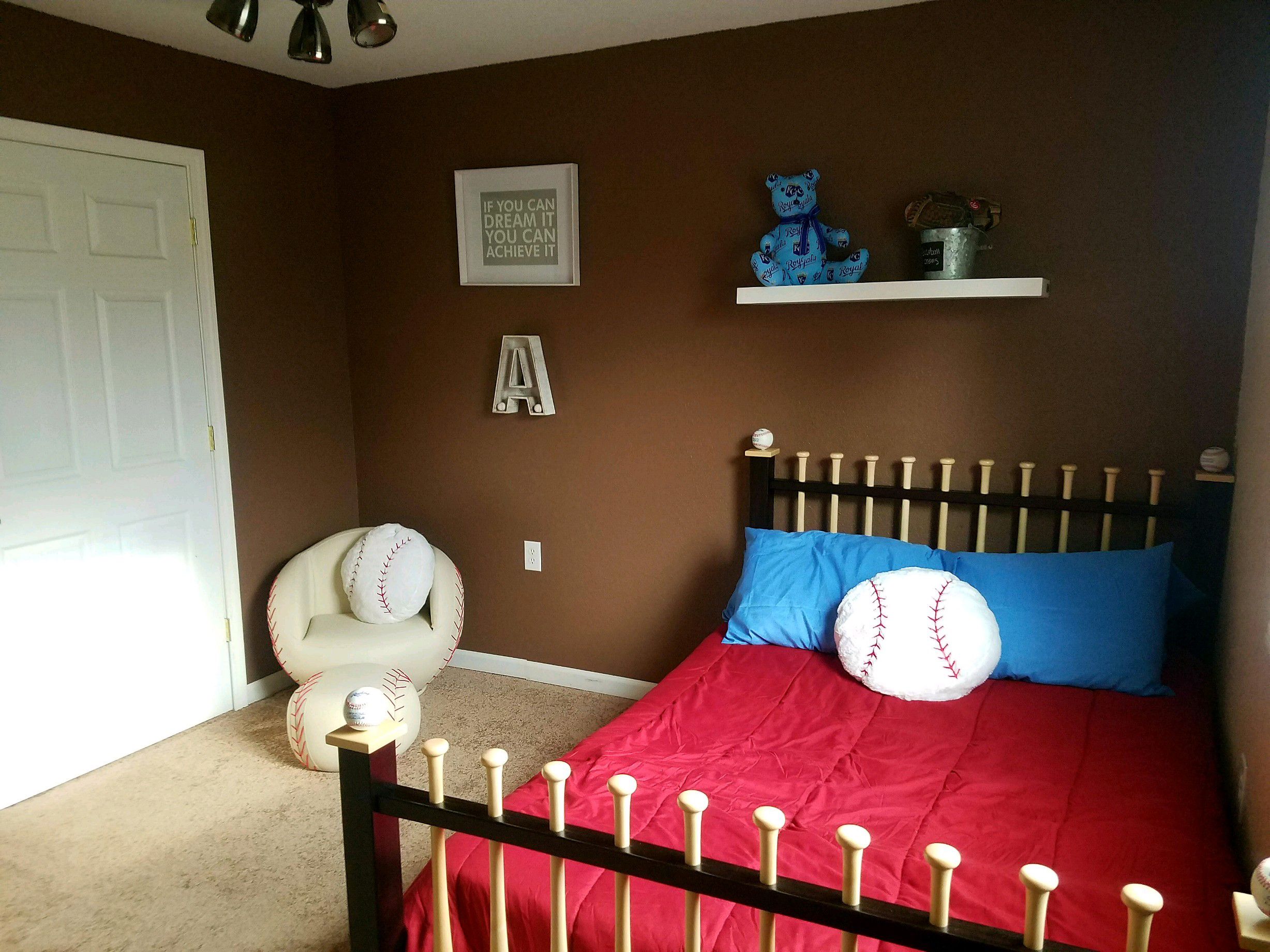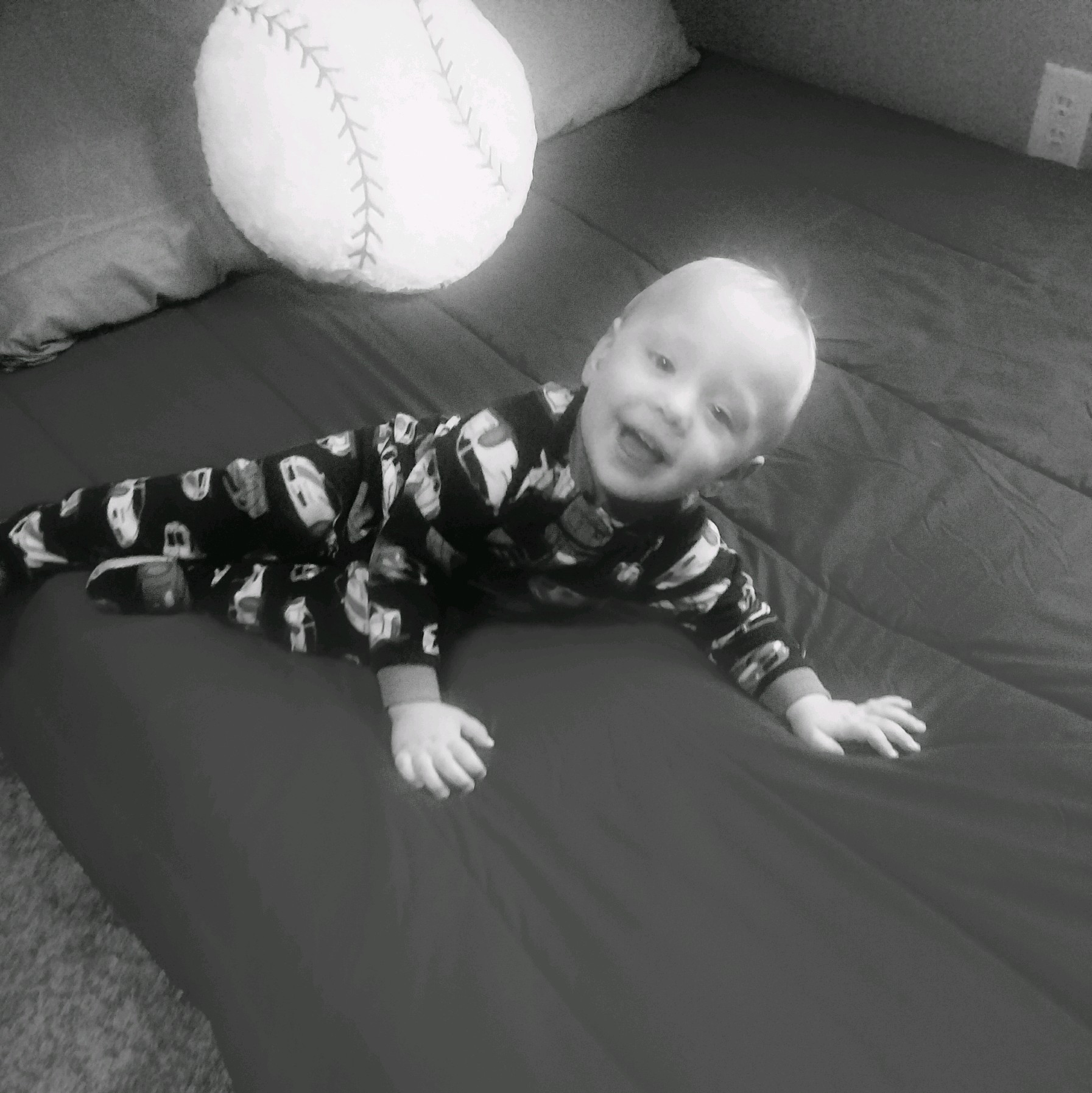 "We LOVE our footboard made of baseball bats! Our son loves to be on his bed and tells us he loves being in his "big boy" room. He is 2. Everyone that comes to our house thinks the bed is beautiful! And very unique."
Marcia from Miami Spring, Florida - Our CUBS fan!
Arrived earlier than anticipated and the headboard is amazing! Instructions were very detailed and appreciated! My son absolutely loves his new headboard and the bed rails you recommended worked out perfectly! You have one extremely happy customer! Thank you so much for making a little boy (and his Mommy) so happy! Cindy from Sykesville, Maryland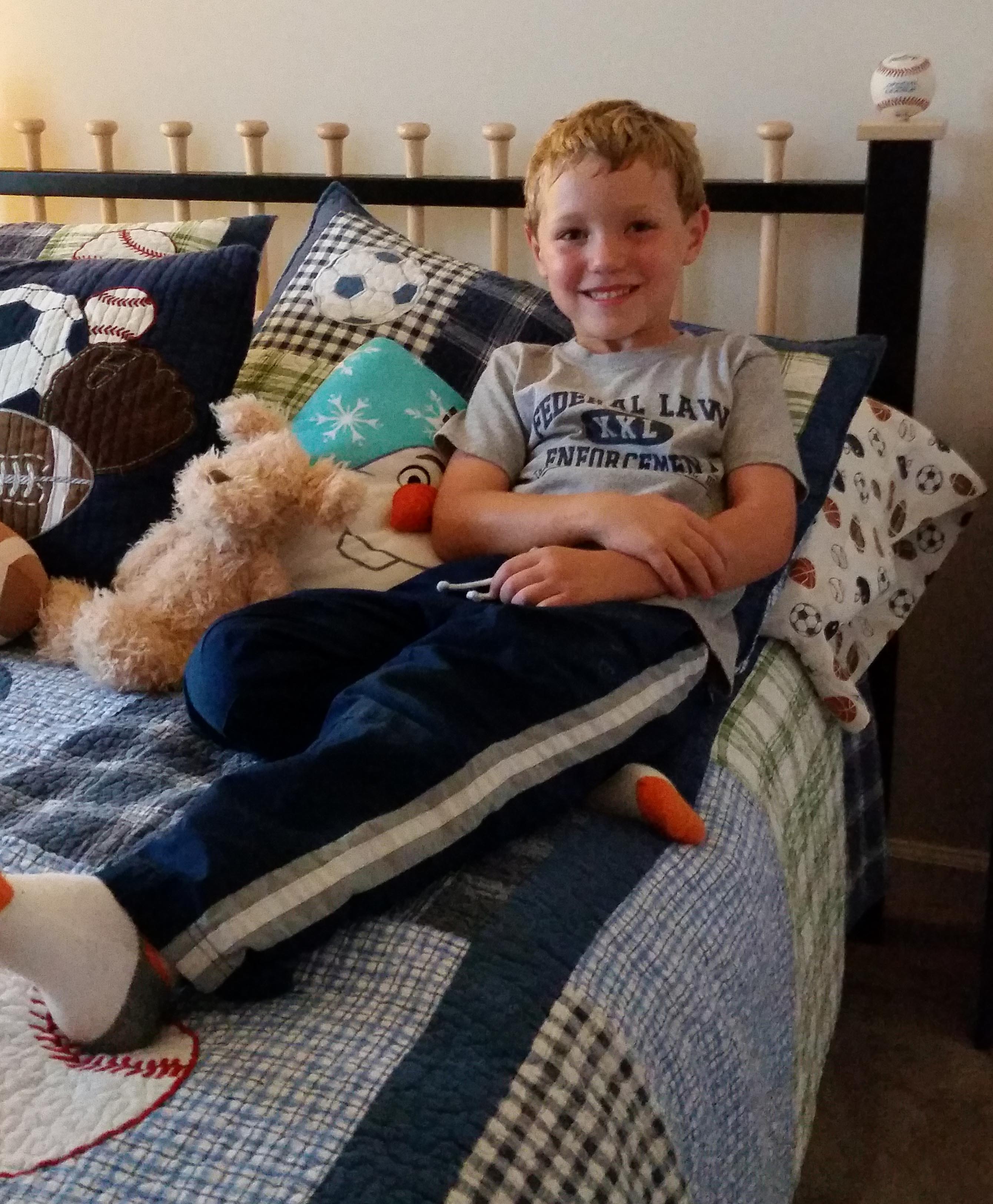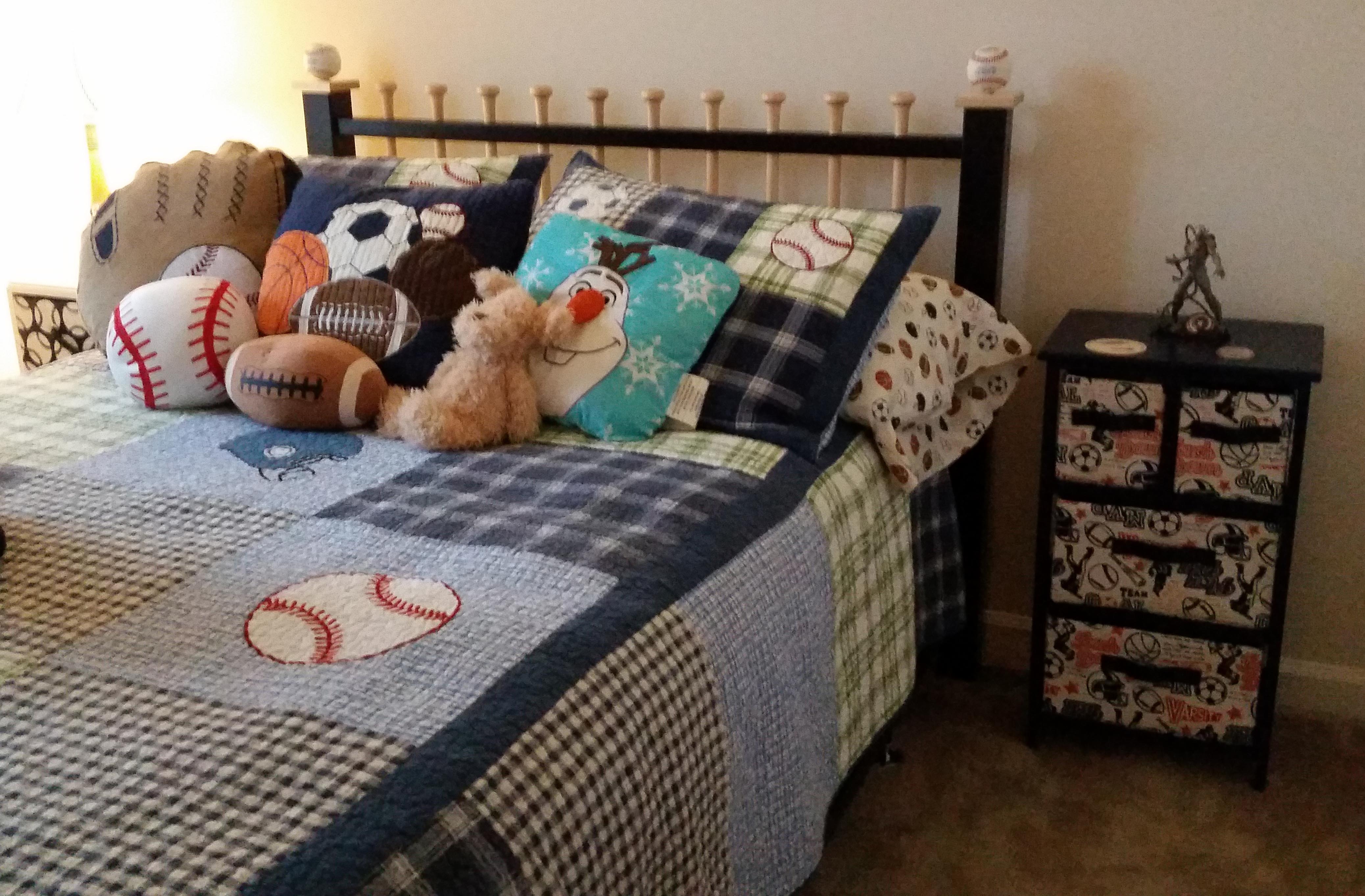 OUR NEW YORK YANKEES FAN!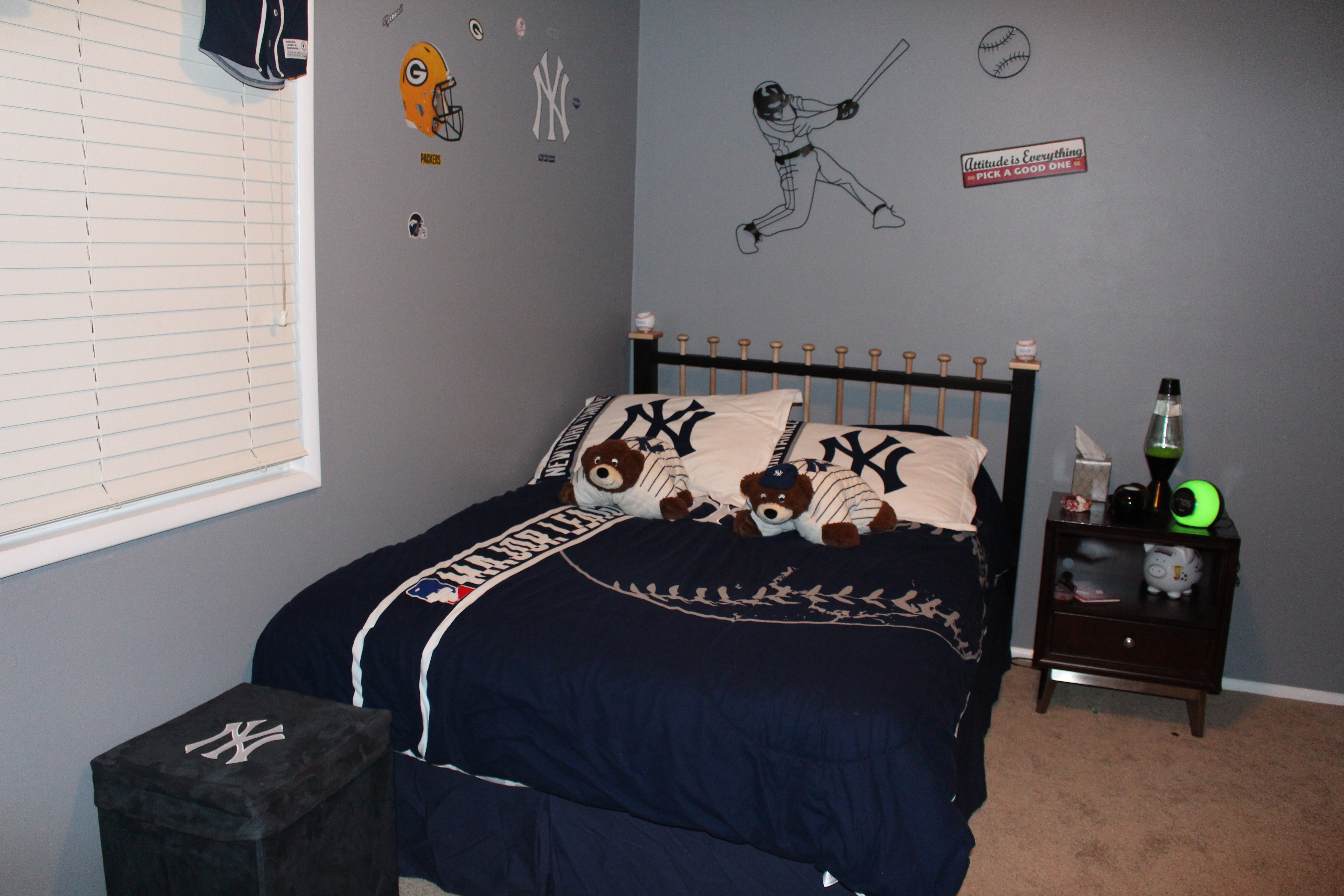 One of our SUPER CUTE customer rooms! THANKS FOR SHARING!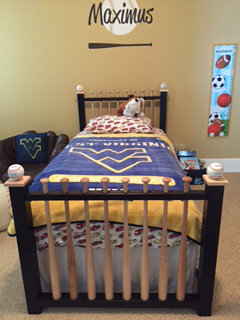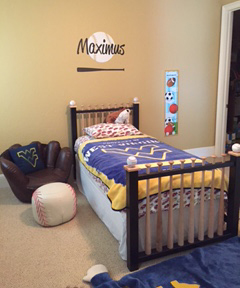 "He absolutely loved it! Santa came a few days early so Mom and Dad could put it together on his last day of school before Christmas break!" - Jodi from Colorado Springs, CO
A QUEEN BED made for OUR CARDINALS FAN!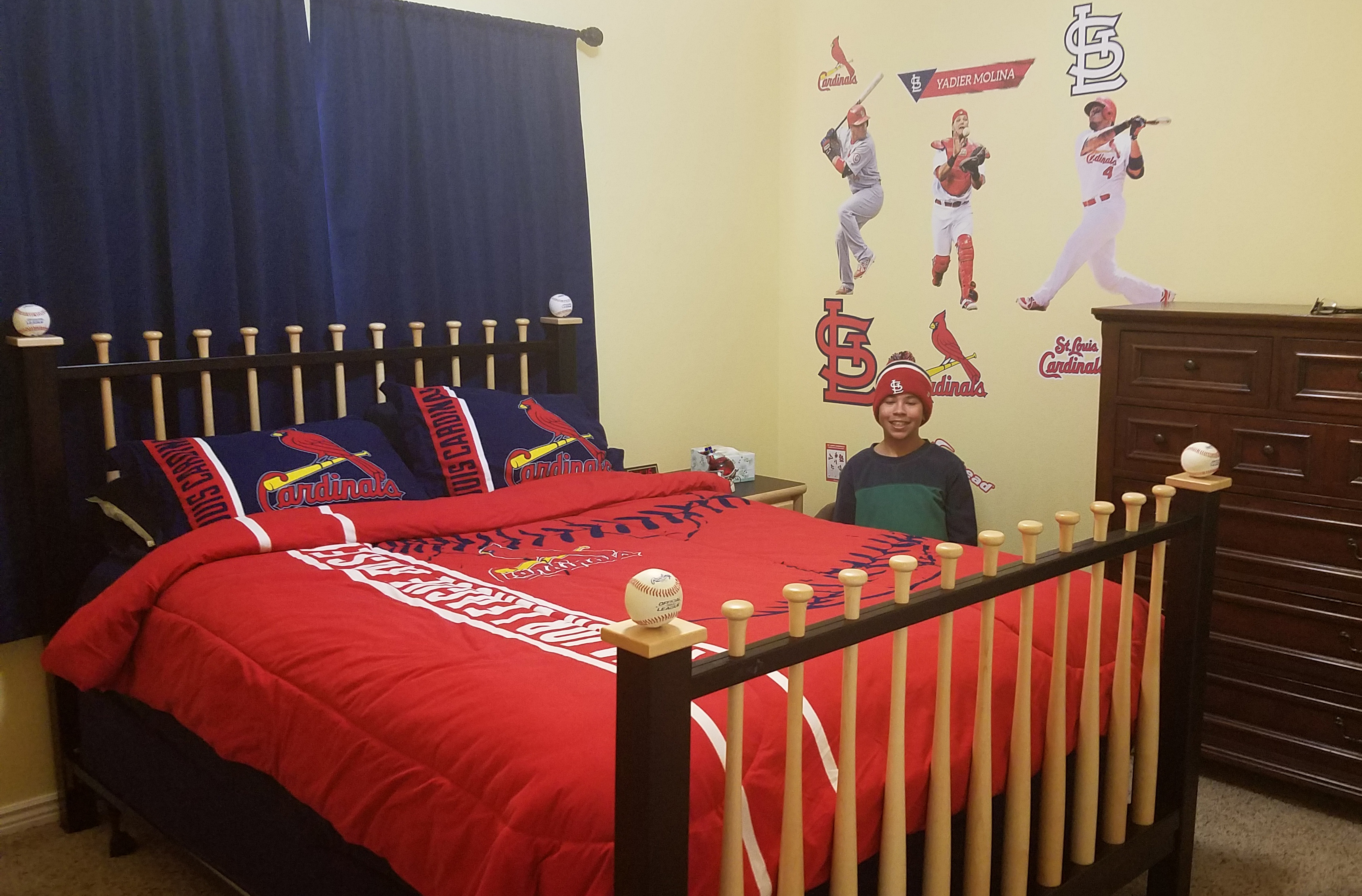 "My son absolutely loves his new bed!!! It came much quicker than expected and was so easy to put together!! Sturdy and beautiful. I would totally recommend this product to anyone with a baseball loving kid!" - Jennifer from Blue Point, NY
A Queen Bed made for OUR NEW YORK METS FAN!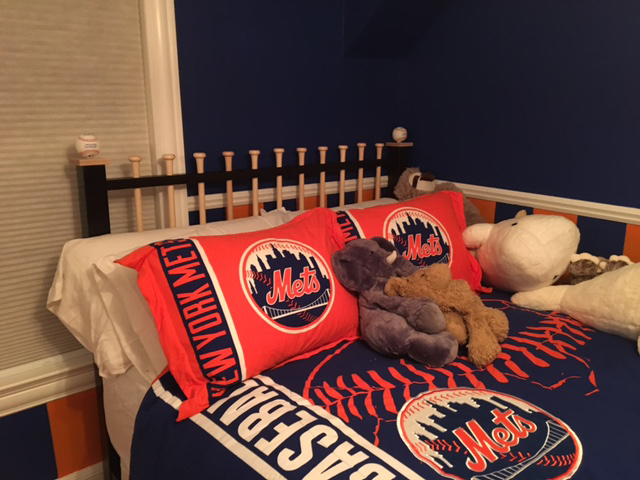 "We purchased our All star bed several years ago because we thought it was unique. And boy was it! This isn't a bed you will see in your local furniture store. Nor will you find quality like this in a store. We are very happy with our purchase and I'm sure this is a piece of furniture that our kids will hand down to their children. Thank you for a great product". Best, Mike from South Lyon, MI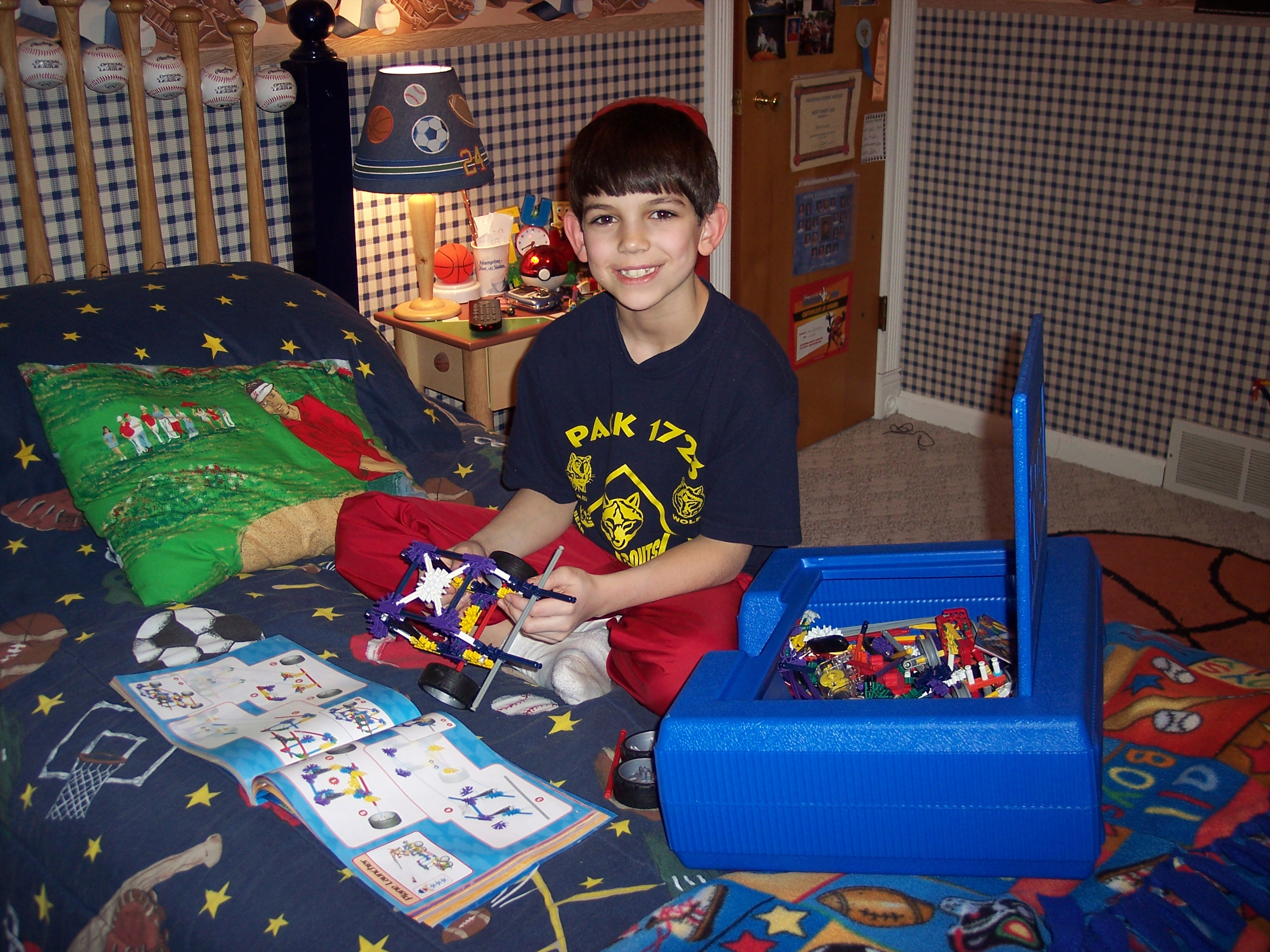 "We love the baseball bed! Its unique and quality. Better than store bought kids furniture." Diane from Glendale, NY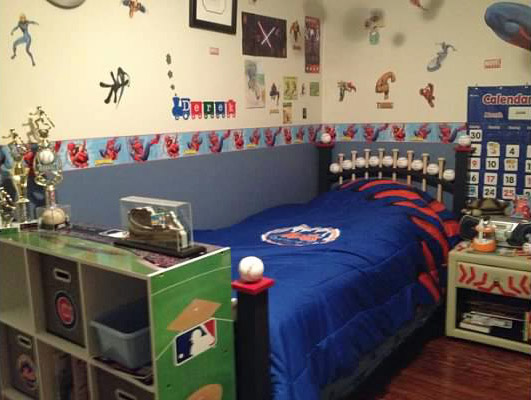 "Hi, I just wanted to say first that we were blown away by the craftsmanship of the bed. We were further amazed at the customer service when something on the bed arrived that was not right. They went above and beyond normal procedures. I highly recommend them. Would love to do business with them again". Anthony from Ontario, CANADA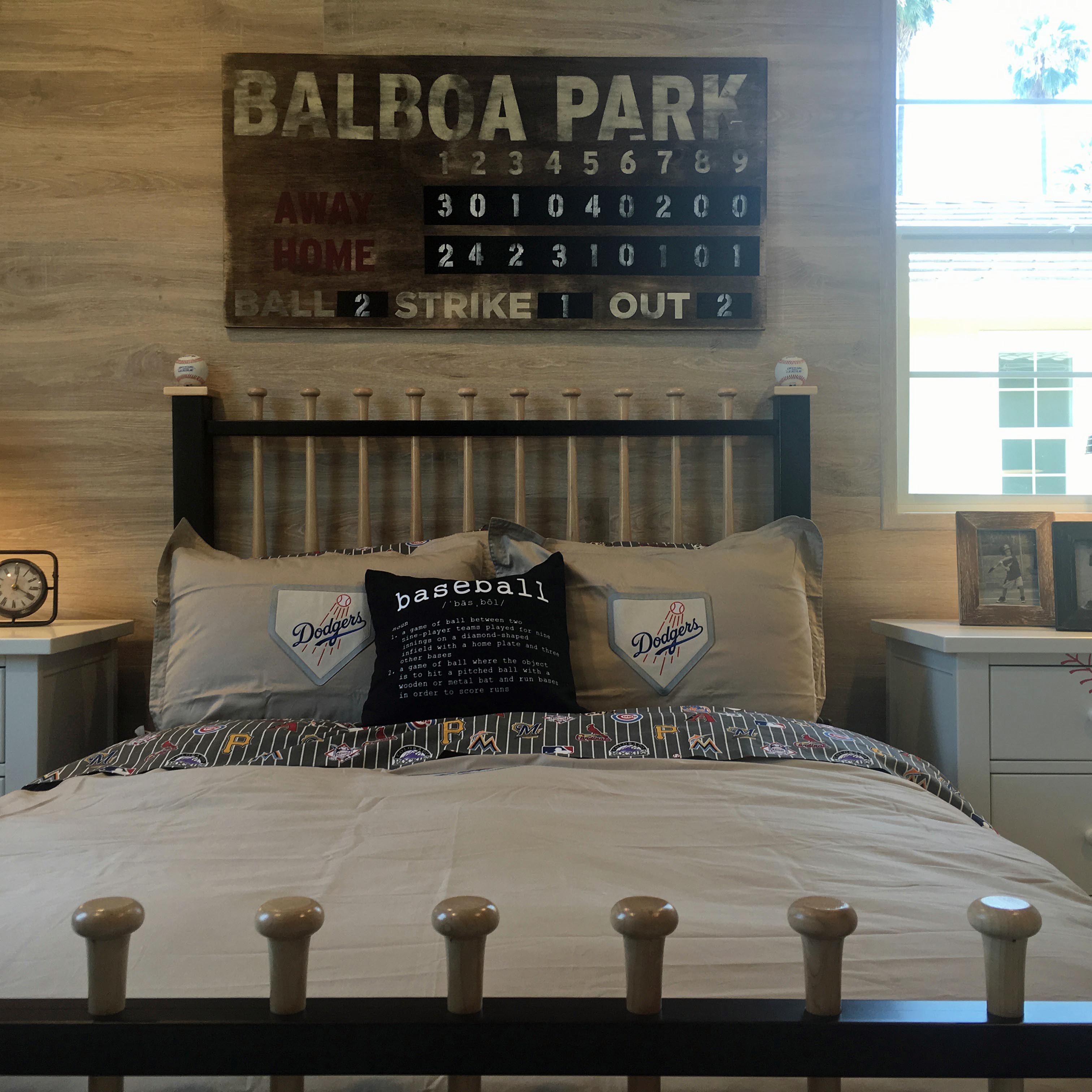 "Sporty Beds will appeal to any baseball fan no matter what the age. It's a one of a kind, unique piece of furniture that will thrill any boy who is lucky enough to own one. They will be the envy of their baseball fan friends for sure. The baseball bat headboard and foot-board are outstanding!"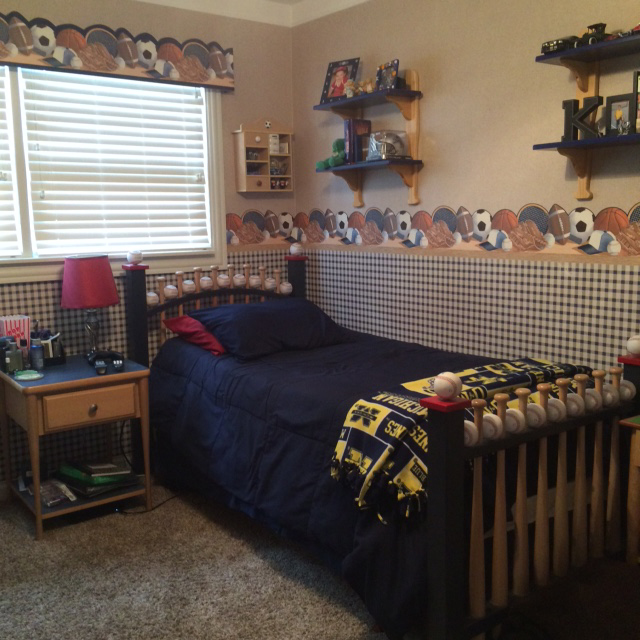 "GREAT product. I ordered three twins for my Grandsons. Assembly was easy, the instructions were clear. And, the headboards are very attractive. My Grandsons are thrilled." Joe from Gloucester, MA